(Last Updated On: 19th March 2019)
By Ishita B Saha: A preview to the very anticipated restaurant launch, Carnival by Tresind, with a 15 course menu can only be followed by sighs – sighs of content. Our initial thought is – you have to savour the dining experience slowly as the tasting menu rolls out like a musical crescendo until it hits the highest note when the last dish is served. We are literally transported to a carnival from one's childhood – tiny kites stuck on copper twig branches, balloons swaying in the air and bubbles streaming out of a bubbleator as we are ushered in and settle into our seats. The decor is eclectic and fun, and is divided into different segments that allow you to sit according to your mood. The bar counter has an edgy feel while the seating by the window with balloons tied up from the chairs have a warm, cosy feeling. And the central seating area gives you the feeling of a romantic escapade sheltered by abstract copper twig branches. The food and service that follows totally meets our expectation, although initially the service seems a tad bit slow with the team not wanting to reveal too much of what the menu has in store for us. And only a bit later, you realise why. Dining here can't be hurried here and a culinary carnival soon begins. Our advice for the diner – Carnival by Tresind is not Tresind (the popular Indian fine dining restaurant that brings this new dining venture). It is definitely "different" from Tresind and not an extension of its concept and that's how a diner should approach it.
Executive Chef Himanshu Saini and his brilliant team from Tresind has created a quirky menu where each dish is inspired from childhood memory and nostalgia of every individual in the team. Much like the word carnival refers to a gathering of people and celebration, this too is a celebration – celebration of of Indian food, its heritage and culture. There are references to different regions and its culinary cultures – for example in UP, where jalebis accompany a hearty breakfast of Phapras or Poha, and this gives rise to the the Jalebi chaat named lovingly as 'Life is short, eat dessert first' where sweet jalebi crunches are used instead of papdis in a traditional savoury chaat. Or the vegetarian dish 'Gol Hatti' named after the eponymous food joint in Chandni Chowk that dates back to 1954. Their famous Chhole Palak Chawal is cooked in kullhad or clay containers and Himanshu replicates the same dish in Carnival and insists that he has been able to maintain the authenticity of its taste. Presentation is quirky – not too molecular or over the top, although clearly a few cooking techniques have been incorporated. But what does post-modern Indian cuisine actually refer to? Himanshu explains: "If Tresind is for the future, Carnival by Tresind is looking back at history. Because beyond using avant garde techniques in Indian cuisine which say, Gaggan in Bangkok is doing and has explored to its fullest potential, post-modern Indian cuisine can only be a reflection of the past or digging into our childhood memories. We have tried to play on all these tastes that have been part of our childhood and tweaked them. I am learning from different cuisines, for example Italian cuisine and for the first time, I am experimenting with delicate flavours and it has given me the opportunity to evolve as a chef." So should a diner opt for a tasting menu here or the a la carte? Himanshu insists that the latter will also give an essence of the dining concept. Clearly, his love for food theatrics is inspired by three Michelin star Alinea in Chicago which is known for chef Grant Achatz' artistic rendition of dishes and deconstructions of classic flavors. Also his tutelage under Chef Manish Mehrotra of Indian Accent, has broadened his culinary knowledge of Indian cuisine. The latter has been featured in the World's 50 Best and is known to put contemporary twists to Indian cuisine and Himanshu is trying to do the same with Carnival – but in own way.
What we loved: The staff is well versed with the menu. While we tried the 15 course non-vegetarian tasting menu, a few vegetarian items from the menu were sent to the table along with the chefs' favourite picks – like Gol Hatti! A lit up Halloween plastic pumpkin set out the mood at the table as we munched into mini Kulchas stuffed with mashed sweet pumpkin. The Makhan Phal followed next – a creamy cacao butter hive topped with avocado and lime cream. As we popped this cold cube of deliciousness into our mouth, it melted like butter. We were surprised to learn that makhan phal or avacados have been grown traditionally in some parts of India, so have krishna phal or passion fruits. The next was La Tomatina Beverage Soup, a clear light soup obtained by cold pressing the tomatoes. The soup was served inside a green bottle with an edible bottle stopper made with bread stick coated with cheese and had to be sipped after pouring it into a tiny chilled glass. This was definitely one of the highlights from the menu in terms of both presentation and taste. The drama enhanced further with Life is short, eat dessert first – a jalebi chat that wasn't as sweet as we had envisioned with the sweet crunches of jalebi dunked into a yoghurt mousse and a bed of spiced chickpeas.
Continuing with the drama, the next dish that was served resembled the sweet ladoos – but was actually the Indian Fried Chicken, a pakora made with minced chicken and coated with boondis. This was followed by the delicious palate cleanser – the Malai Baraf, a litchi granita in raspberry rose water and fresh cream sprinkled with edible gold dust. Although there is no traditional demarcation between starters and mains in the Carnival menu, but we were clearly onto the mains. The prawn dish Pullinji takes in its inspiration from South India with a strong tempering of South Indian spices playing with caramelised sauce of ginger and palm sugar, and a crispy curry leaf in an avant garde avatar acting as a crowning garnish. The Oranjee or an orange and kaffir lime popsicle followed next (we thought it was way too soon for a sweet palate cleanser with the litchi granita already playing in the mind). See Food, the scallop dish served in a shell platter with an Assam Tea Dashi poured on top maintained the delicate flavours of the scallop while the Utterly Butterly had a playful to the iconic Indian butter brand – the Amul butter with spicy cheese toast served as a side to the juicy and succulent Wagyu beef slices. The Mutton Dressed as Lamb had a tender cake of soft Galouti kebab with a bone attached to it with a rich Nihari jus pouring on top and to be eaten with soft flat bread. The brilliant end to the seeming main course came with the Dal Phulka, a yellow lentil cappuccino topped with truffle ghee and cumin coco with a phulka cookie by the side.
With a few dishes sent out to our table outside the main tasting menu, I am not sure whether the dramatic Vada Pao Service is a part of the non-vegetarian tasting menu. Chef Himanshu Saini pays tribute to the humble Vada Pao and to its origin as a millworker's simple lunch meal by adorning the garb of a mill worker, complete with helmet and a toolkit. He then gives it a dramatic makeover by crushing the potato patty in its bun and sprinkling green chilies, tamarind chutney, chopped vegetables and crispy sevs.
The desserts match up to the quirkiness of the menu that we tasted so far and doesn't seem too heavy. Go Bananas is a Banoffee pie in its South Indian avatar served on banana leaves. Imagine Betel Leaf Macarons overthrowing the need to taste the real betel leaves as the final mouth freshener after a heavy Indian meal! Or choosing Kappi, Carnival's version of South Indian filter coffee over the real one – strong coffee-infused chocolate pebbles served with chocolate chips and caramelised lotus seeds. The final showstopper comes in with Rustom – mini ice-cream sandwiches served in a doll house. This has nostalgic reference to traditional Parsi houses in Mumbai and the dessert is inspired by Bombay's famous K Rustom ice cream sandwiches with layers of the famous Parsi Lagan nu custard.
Our sign off note: There is enough option for a vegetarian diner or if you have any food intolerance and allergies. We want to go back to try the a la carte and a platter called 'From 90's Birthday Party Menu'. Would you take a guest who needs an initiation into Indian cuisine to Carnival? This is a tricky question but with the arrival of Carnival by Tresind, it might be hard to resist the temptation to show off elements of Indian cuisine amidst such spunk, fun and quirkiness.
[The order of the dishes served is not strictly how we were served. Also there were some additional dishes (beyond the 15 course tasting menu) sent to our table for tasting]
Vada Pao
La Tomatina Beverage Soup
See food – Scallops in Assam tea Dashi
Litchi Granita in raspberry rosewater, fresh cream and edible gold dust
Mutton dressed as Lamb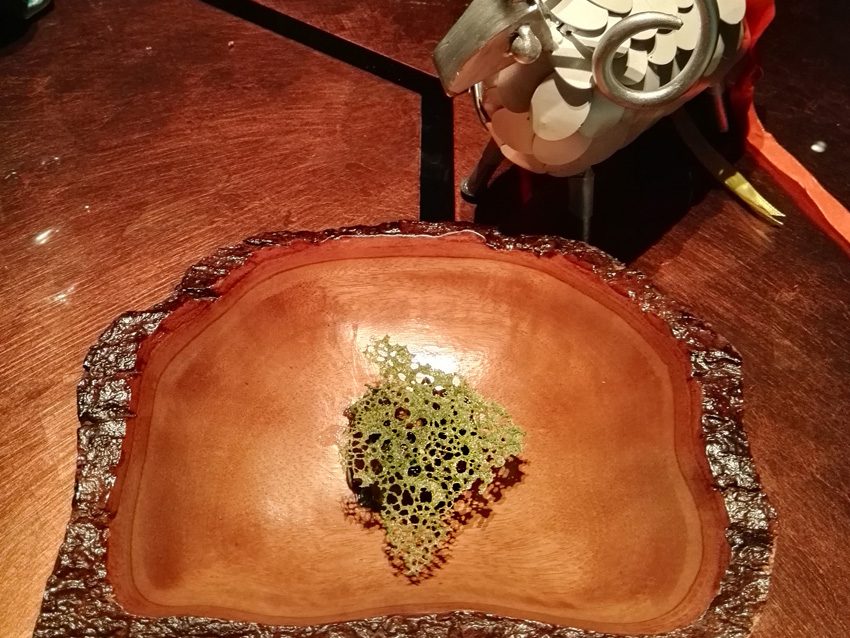 Pullinji – South Indian style Prawns with crispy curry leaves
Silver Martini with dehydrated apple, raspberry and hibiscus flower
The space inside is sprawling that can seat more than 100 diners. Taking the hue of copper as a cue from the parent restaurant Tresind, the decor in Carnival has generous dose of the same – in abstract twig forms or on the walls and transports you to a magical fairyland. The focus of the restaurant is to attract both the Indian and the non-Indian audience which is evident from the unobtrusive music that rolls out – its not desi but trending international tracks like 'I hate you , I love you' from Gnash or 'Cake by the Ocean from DNCE' etc. The long seating by the bar promises to act as a catalyst in conversations with interactive live cocktails demonstrations. Shireen John, the Bar Manager tells us more about the interesting cocktails that he has conjured up while we are served non-alcoholic versions of a few signature cocktails (the restaurant hadn't obtained alcohol permit when we had visited). With Happy Hours and quirky bar snacks priced reasonably, the intention is clear that it aims to capture the DIFC office goers for a post-work meet up (much like Roberto's has done in the recent months). We loved the relaxed dining experience and the vibrancy. With food that tastes good and looks gorgeous, the pricing doesn't seem ridiculous. Carnival by Tresind is a delightful addition to Dubai's dining space and we sincerely hope that it soon becomes Dubai's 'must visit' dining venues and can walk on its own feet rather than with constant comparison from its parent – Tresind!
Carnival by Tresind is open daily for lunch from 12pm-3pm and dinner from 7pm-11:30pm. Happy Hours and Carnival's early bird menu with bar snacks available daily from 5pm-7pm. Tasting menus are priced at AED 250/person for an 8-course vegetarian degustation menu, and AED275/person for the non-vegetarian option (excluding alcohol).
Location: Burj Daman, DIFC
Reservations: +971 0522424262 and for group bookings and menu customizations, email at [email protected].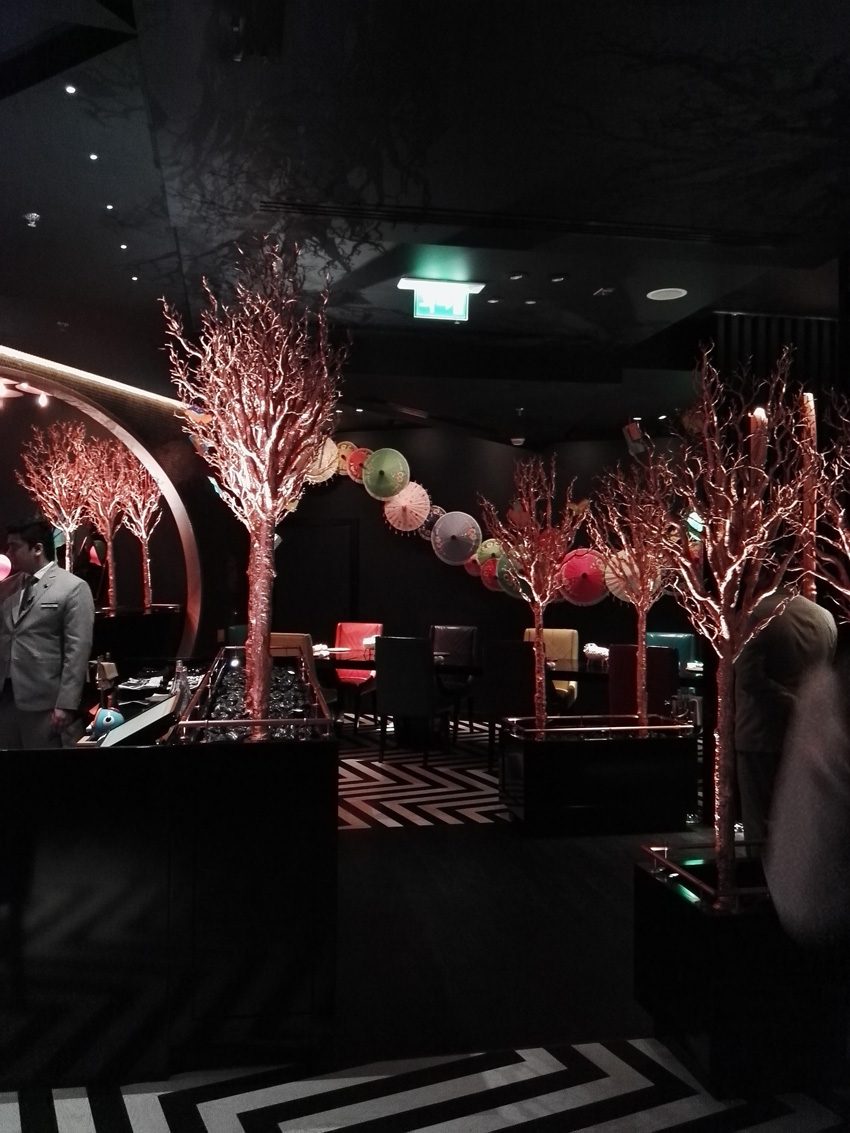 [Exclusive images from FoodeMag dxb preview dinner]

Other posts from the Author
More stories from Dubai Dining