(Last Updated On: 23rd June 2016)
Executive Chef Ben Heaton is also from Toronto and brings most of the signature dishes from the Toronto restaurant to Dubai, adding a few new dishes – the 'raw dishes', that seems to appeal a lot to Dubai diners. He is joined by Paddy McDermott from the Canada team and Ryan Mark Allen joins in with a Qbara and Zuma pedigree to back him up. While the classic American fare has been uplifted and refined, the menu doesn't go and on – it is concise and comes in 'small' or 'large' portions, and meant for sharing which is the current dining trend at this hour. The kitchen boasts of a four-metre grill – built by Grillworks in the United States which costs US$ 60,000 (AED 220,000) and is the largest in the Middle East and will use both hardwood and charcoal to achieve flavour and maximum heat. The beverages menu assumes equal focus and importance as the food menu – not only are there more than 100 cocktails with expert mixologists creating unique interpretations of classic drinks like Orange Spiced Old Fashioned and Barrel Aged Negroni but also a running tap for two of their signature cocktails!
What we loved: The staff are chirpy and friendly and well versed with the menu and we end up ordering dishes that are their favourites, including the chefs' favourite picks! While the Canadian classic street food Poutine made with french fries and cheese curds topped with gravy assumes a fine dining stature here with inclusion of lobster meat and hollandaise, the side orders of Cream Corn with red onion and black garlic and the Roast Cauliflower with buttermilk ranch is comforting to the core. The Mac and Cheese was one of Chef's top picks but we decided to save it for our next visit, and instead opted for Roasted Beets with burrata, orange, grapes, hazelnut and Niagara vinegar and the Smoky Beef Tartare with cured egg yolk, black truffle and horseradish cream – both crying out for second servings. The Grilled Welsh Rhug Estates Lamb Chops with red onion chimichurri followed soon along with the crowning dish of the day – the Southern Fried Chicken with tabasco honey and brussels sprouts slaw at the side. The chicken had been marinated overnight in labneh and then put in hot oil for a minute assuring us that we were tugging into the healthiest (and the tastiest) fried chicken that we must have eaten in our entire lives!
For dessert, we were recommended to try Gianuja Tart and we instantly fell in love with the yuzu flavoured lemon custard and meringues which brought a very refreshing change in our palate – much like a zingy sorbet. We also had S'mores a traditional camp treat popular in the US and Canada, consisting of roasted marshmallows and a layer of chocolate sandwiched between two pieces of graham cracker smothered with rich chocolate sauce. This is a new addition to the dessert menu and everything in this dish was made in house including the marshmallows and the Graham crackers – a real delight.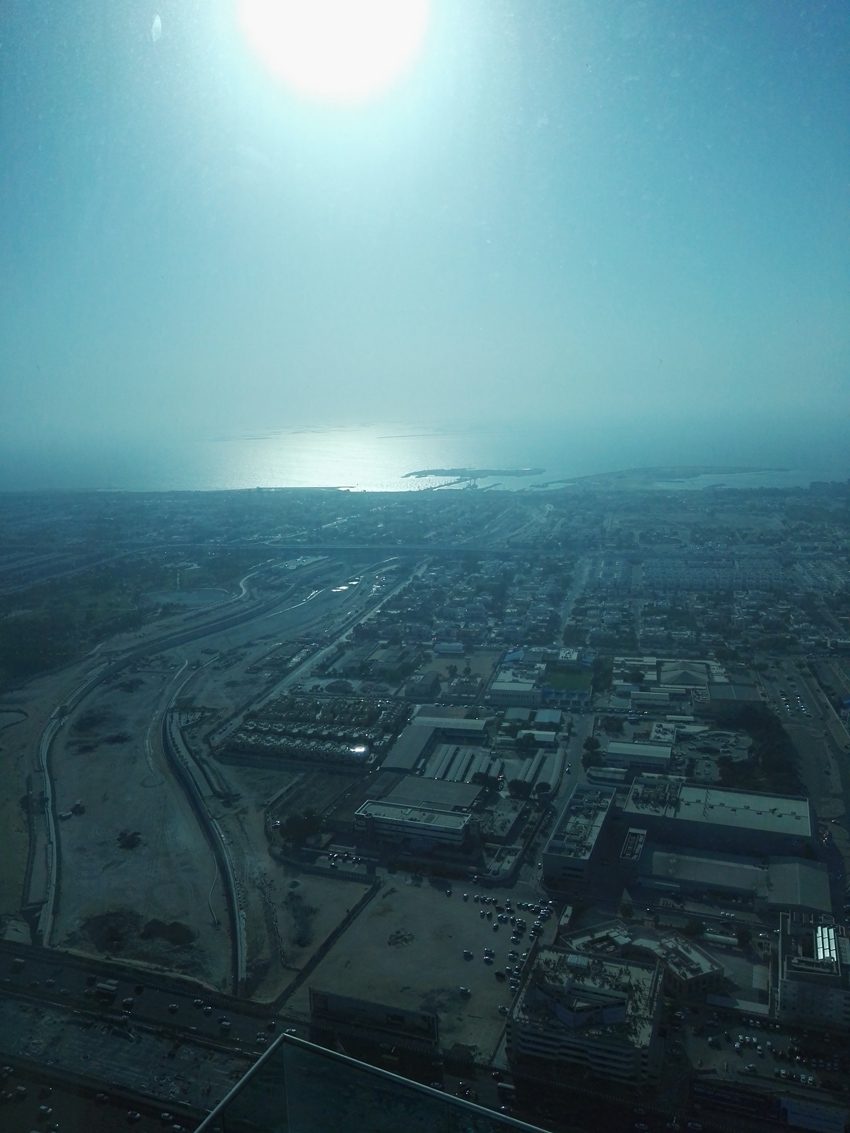 6:30 pm: View from Weslodge Dubai during sunset
Save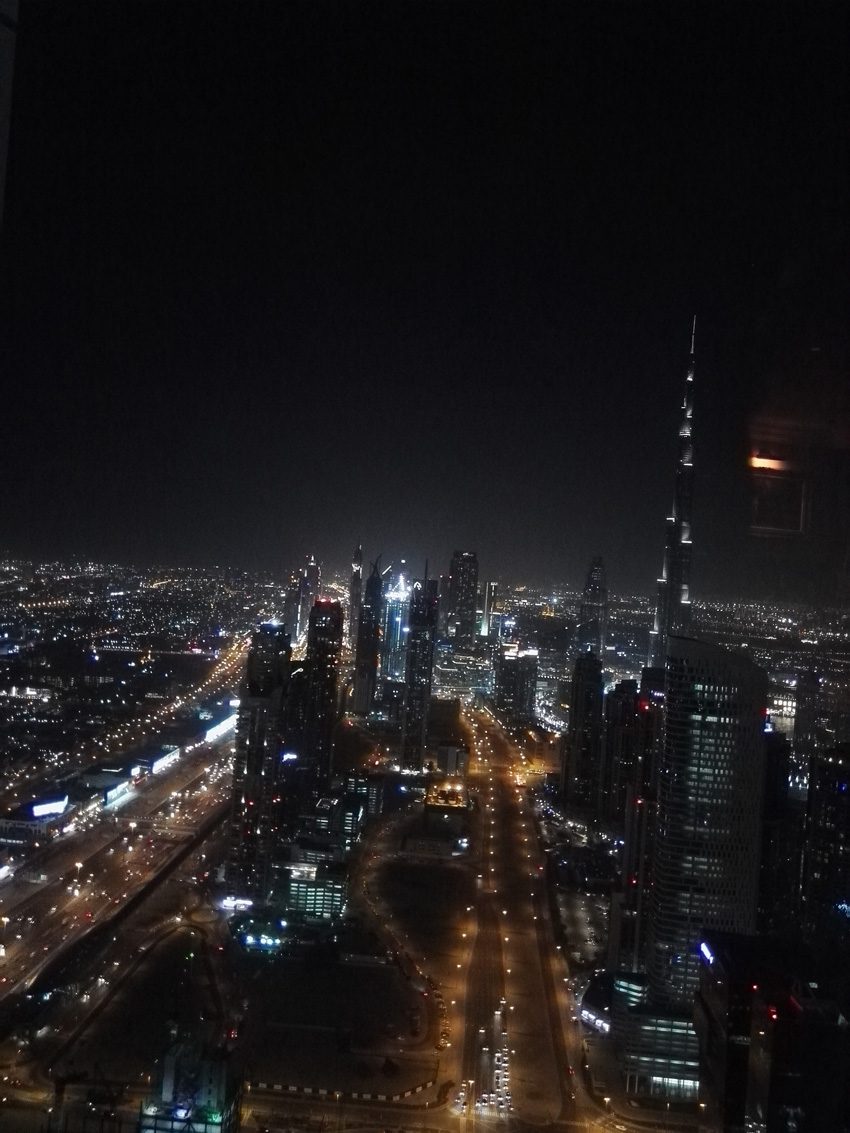 8:30 pm: A stunning nightscape of Dubai with Burj Khalifa peeping out
Save
The space inside is literally huge and sprawls across a 4,500 sq L-shaped room that can seat more than 140 diners. While cosy leather and velvet couches, settees and low lying coffee tables occupy one part of the room, traditional seating arrangements around dining tables mark the other side – the long seating by the bar holding centre stage through and through. A resident DJ serenades with ageless classics, hip hop and rock and roll while a stunning Dubai panorama engulfs the entire space, including the formidable Burj Khalifa peeping at one end. We loved the relaxed dining experience as we watched the sunset with sundowners and ushered in the evening and when it was me for us to leave, we were surprised with the crowd that had started pouring in – the entire space was throbbing. With honest food that tastes good and with the price pointers for the location that it has, we will not be surprised if Weslodge Saloon soon becomes one of Dubai's 'must visit' lounges and dining venues!
Weslodge is open daily for dinner from 6:00 pm until 2:00 am.
Location: JW Marriott Marquis, Tower B, 68th Floor; Reservations: +971 4 560 1700/ 800035703994 or [email protected]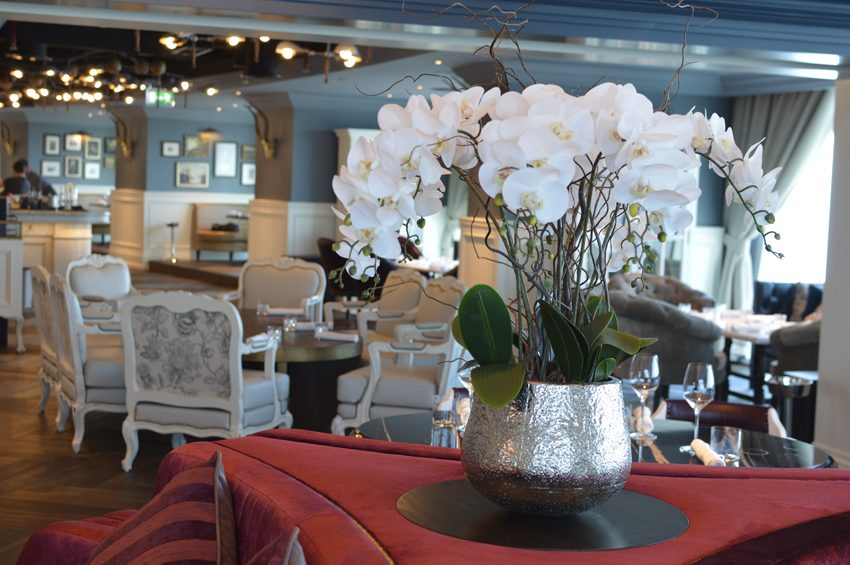 Save
Save
Coming soon - an opportunity for ten readers and their guest to #DineWithFoodeMagDxb at Weslodge Saloon.
Save
Save
Other posts from the Author
More stories from Dubai Dining