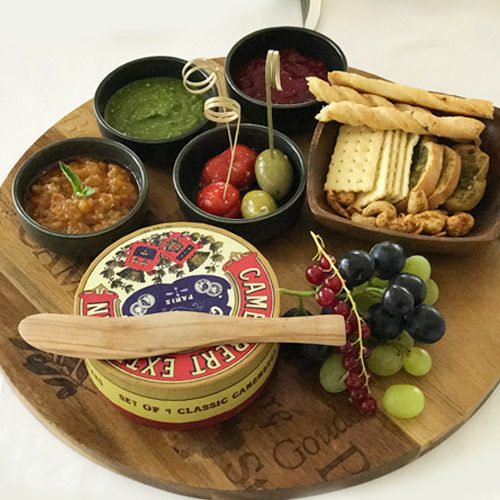 Indian Cheese Platter
#TriedNTested: How many times can one go back to the same restaurant in a city that boasts of new restaurant openings very single night? As I asked myself the question as I opened another invite from Tresind, this time to taste new summer menu which promised 20 new dishes, I had already accepted the invite. Curiosity won me over – what's the culinary twist this time!
Anyone who's a regular at Tresind has his/her favorites – for me, the dramatic Chaat Trolley or the Wild Mushroom Chai are one of them, and I am always tempted to order these. We refrained ourselves (Debbie was my plus one this time ~ a working lunch after all!) from doing so this time, and welcomed the kaleidoscopic culinary surprise that was in store for us. The new menu takes into consideration the feedback from guests on previous menus which seemed to showcase a lot of interesting starters but probably fell a bit flat on the main courses – on a comparative scale. And that's probably is the challenge when delving into progressive dining ~ every dish cannot have the equal intensity of theatrics to hold its guests' interest. The new menu in that way, shines through that challenge. Expect no liquid nitrogen shows (haven't we seen enough of it already?) and more of witty playfulness, not only in presentation but also in the creation of each dish. For example, the Indian Cheese Platter. A cottage cheese panna cotta creatively crafted by hanging the former for a long time and whisking it with cream and herbs sprinkled on top. It's disguised cleverly in a camembert box and accompanied by coriander-pesto dip, eggplant-tomato salsa and a red currant chutney. This perhaps is one of our favorites from the menu and being second in the order of serving, it already set a high expectation for our lunch.
The standout dishes from the new menu: From the Starters ~ Beetroot Tikki Falafel crusted with powdered corn flakes with a blob of mango puree on top and served with pickles; the interactive preparation of Tandoori Falafel by the table and then crumbled and stuffed inside a soft Kulcha Bun and served with Sour Cream Chutney; the Barbequed Wagyu Boti Kebab (continuing from the Iftar menu by popular demand much like the Tandoori Prawn in Hollandaise foam); Chilli Prawn Tempura served with Nimboo Bhel; From the Mains ~ a delicious interpretation of Parsi Baida Roti with roti pockets stuffed with chicken mince and served with Chicken Curry; Prawn Koliwada and Malvani Curry; Gujarati Khandvi roll and Gujrati Kadhi served with Papaya and Coconut Chutney; a Slow Cooked Lamb Boti and Ghee Roast Masala served in the style of a pulled lamb preparation; From the Desserts ~ a Rajbhog Cake sitting atop a Mango Fruit Cream and Raspberry; a delicate Almond Halwa Tart served with Almond Creameux and Coffee Ice Cream; traditional Jalebis and a Rabri Fondue. It's interesting to note that the desserts supersede all the previous desserts we have tasted in Tresind so far. These are desserts with traditional Indian flavours that will appeal even to the non-western palate. They are light, not too sweet and play on contrasting flavours – for example, the lightest hint of bitterness in the coffee ice-cream cutting through the sweetness of the Almond Halwa Tart or the light frothy Mango Fruit Cream complimenting the sweet Rajbhog.
Does everything work? Well, thankfully most of it does excepting one dish. The Fish Patrani with the Thai style marination and served with Thai Pomelo Salad. Nothing to complain about the taste. Conceptually this doesn't fit into the menu which showcases a lot of dishes bringing in flavors from different regions of India. If one has to cross the geographical border for culinary inspiration, one could look at the neighboring countries like Burma or Nepal for instance. Or even the country's Anglo-Indin heritage. Or if the focus is a fish preparation wrapped in banana leaf, inspiration could come in from home with the Bengali Maacher Paturi or the Parsi Patrani Machchi. When I share our trepidation with chef Himanshu Saini, he points out that not only is he confident in his creation but is also trying to avoid any controversy regarding the authenticity of a regional preparation. If that is the case, then that should apply to the entire menu and there should be any single regional dishes served in the menu. As a pat in the back for Himanshu, he should know that the Kerala Fish Moilee that we had tasted in the Iftar menu earlier can confidently contend the the Fish Moilee from Atul Kochhar's Rang Mahal (the best in the city according to me). While there is a focus on showcasing some solid star dishes, the fun element or theatrics that one necessarily expects in Tresind isn't completely eliminated (I think that's a cue taken from this year Iftar menu). The scented vapor erupting from the vase welcoming us at the table, or the first bread starter served under a magnifying glass or even the motorised Rabri Fondue to dip the jalebi in, does make interesting conversation and keeps the diner excited throughout. Playful like the earlier menus, there are a few exciting highlights in this menu too that one shouldn't miss. We are fond of Himanshu, having first met him the very second day of the restaurant's opening and seen him evolve and mature into a chef with his unique traits and the creative scope that comes with a restaurant like Tresind will only challenge him further to better himself. Our Tip: do visit with an appetite, time in hand and patience to savour the the new menu. Would we go back? Absolutely, and while we want to hold on to this delicious summer menu, we also can't wait to see what the winter menu serves!
Disclaimer: We visited Tresind as invited guests and this is our honest opinion about our experience of the food we tasted, and not a restaurant dining review that should also take into consideration the service, ambiance and the pricing. [Images by Ishita B Saha]
Tresind is located in Level 2, Nassima Royal Hotel, SZR. The 9-course tasting menu starts at AED 250+. Phone no: 04 308 0440. For info, visit Tresind.